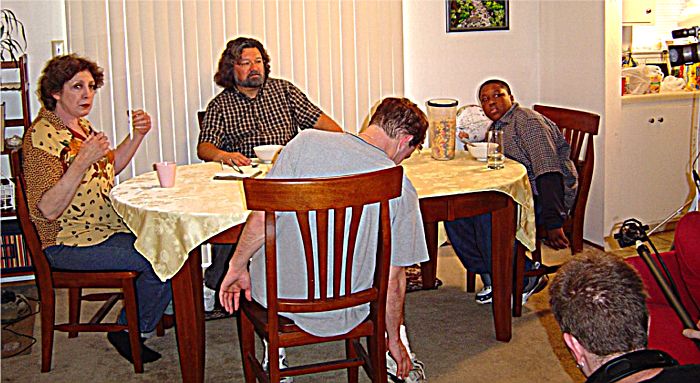 A typical disfunctional breakfast at the Bearden home.
I again play Mom, Carol Bearden. My husband died only a couple of years before this episode in the lives of the Bearden family, consisting of Mom, her son Calvin, adopted son Donny and father-in-law James. The crux of the film is the problem of Calvin's not being able to cope with his father's death, his feelings of failure and his resulting alcohol problem. Carol asks her father-in law to lend a hand and some sage advice in dealing with the problem. James calls in a close friend of his son's, Fortius, to step in and mentor Calvin. Thus goes the story of Troubadour.
Around the dinner table: I'm at 9 o'clock, Gramps - David Guilmette at noon, son Donny - Solomon Stuart at 3 pm, and the back of problem son Calvin - Scott Hayman at 6 pm.