I, Bonnie Steiger, play Linda , the only semblence of reason and sanity in this residence hotel. Many neighbors drop by, including Hepburn, for a drink, a smoke, a respite from the chaos of their own rooms, the public rooms, the hallways, the streets, and partake in a little conversation. Linda often tells them stories from her past, and all the stories end on a bitter or sad note -- her adolescence, her marriage, her dealing with dealers and thieves. She is responsible for the shambles her life has turned into. There are no happy endings for junkies, which my character had been previously. These days, Linda lives quietly and dispenses a bit of morality through recounting her past without preaching or even trying to change these fellow lost souls.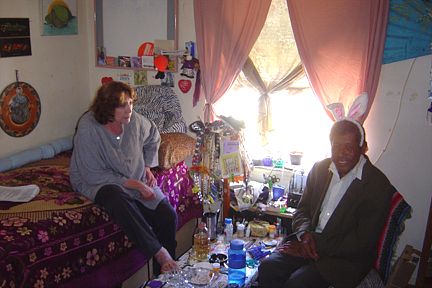 Visitor Rikki (Calvin Healey) and I (Bonnie Steiger)
recount common experiences in my little room.