Extreme Forensics is a new show on the Discovery Channel which recreates and explores famous crimes and criminals. In this show, the crimes of sniper Charles McCay, Jr., are explored. Between October 2003 and February 2004, McCoy terrorized the greater Columbus, Ohio, area , shooting his 9mm Beretta into school yards, gas stations and on the highways of Ohio. During his cold blooded rampage, there was only one fatality, housewife and mother Gail Knisley. She and her best friend, Mary Cox, were driving down I-270, taking Gail to a doctor's appointment. They were having such a pleasant time chatting in the car, driver Mary missed the exit. She took the next exit to get back, and was met by McCoy going in the opposite direction shooting into her car. The bullet grazed Mary's jacket and then ricocheted off the dashboard, hitting Gail in the chest and killing here.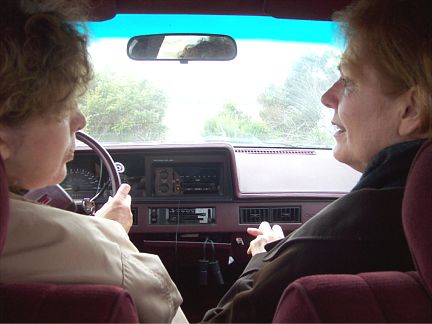 Mary Cox (me, Bonnie Steiger) and Gail Knisley (Ester Mulligan)
chat as they cruise towards Gail's doctor's appointment.