This is a short film about a day in the life of a beautiful, young woman, Sydney, played by Candace Younghans. Remember, I only see the film from the perspective of my character, so you're not getting the whole story of the film. Be that as it may, on Sydney's way to a modeling photo shoot, she has an accident. She hits me, Miriam, with her car. In a panic, she drives away, but morals get the better of her, sort of. Parked a couple of blocks away from me, still laying in the street, she puts on her sneakers and, posing as a runner who has no involvement with the accident, comes to my aid.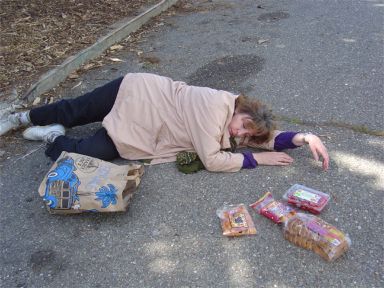 I've been hit by Sydney's car
while getting out of a parking space.