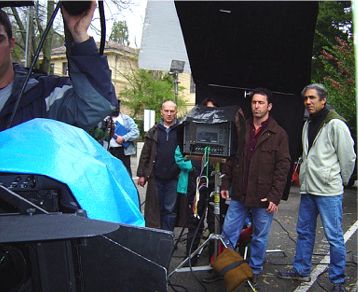 Director Mike Loades, left of camera, watches on with Director of Photographer, Yoram Astrakhan, right of camera and David Corona, First AD, as rain gear is put in place.
Some say that Jo Ann was responsible for John's schizophrenia. I disagree, not because I played her (I love playing the culprit), but because, first of all, parents don't cause schizophrenia (except genetically) and, secondly, because love (even "over protecting love") does not cause people to stalk movie stars and attempt to kill presidents. The worst young John could accuse his parents of was "not understanding him."
John was not abused, physically or emotionally. He was a victim of a brain chemical imbalance. And four men were victims of his gun play (all wounded).