My guests and I are a little hemmed in by cameras,
but that's fine by me.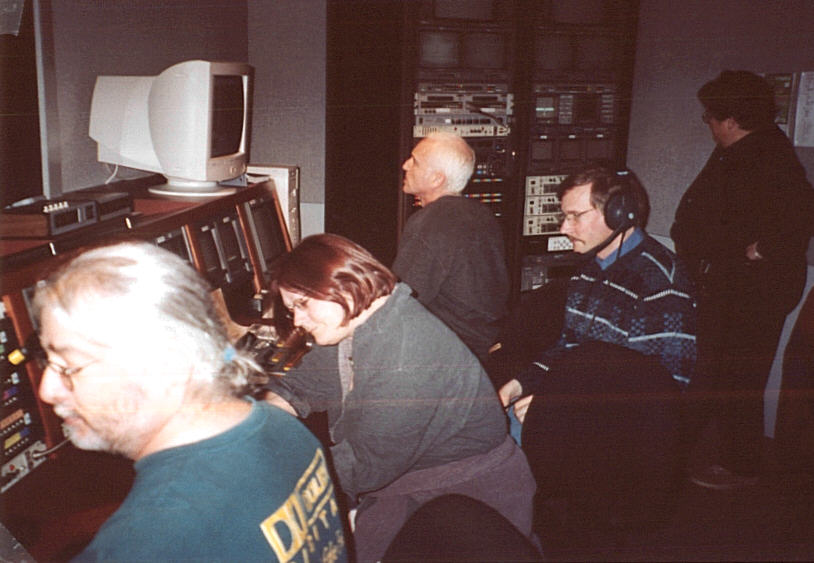 Behind the scenes, the mighty crew toils on.
Left to right: Michael Faklis, Cheryl Kunkel,
Eddie Fisher, Doug Robertson, and Jan Levine.
Talk show host/interviewer
You can find my recent celebrity interviews at Examiner.com , as well as my reviews. For a list of guests and our interview links, click my Interview page.
Also, for many years, I hosted my own San Francisco CableTelevision show, "Movie Close Up," For a description of the show and a list of guests with their links, click on "Movie Close Up." This show aired on Comcast and Astound Cable Networks, Channel 29, and AT&T Cable Channel 99, as well as video streamed. It was an intimate, intelligent and fast-paced interview show in which I talked with Bay Area filmmakers, showed movie clips of my guests' works and upcoming films, and reviewed the latest releases, all while responding to audience call-ins. Who knows, I may go back to San Francisco Public access some day.
Also, downstream celebrity interviews from my show, "Below San Francisco". Go to ChanZ.tv to check out some of my interviews with people like Jeff Bridges, Kim Bassinger, John Waters, Devine, Joan Chen, Marine World Africa Animals, Nick Cassavetes, Dick Shawn, Kitten Nativadad, John Phillip Law, Weird Al Yankovic, Simon Jones (original Hitchhiker), Tab Hunter, Paul Bartel, Judd Nelson, and more.... They're irreverent, funny, and historic, done on location in some of the hottest spots in San Francisco.