I felt really challenged by the audition. I was to play the mother of a young man who believes he is a vampire. He's suing his boss, an old family friend and owner of the local supermarket, because he wants to work nights stocking shelves, and the store isn't open nights. He calls this discrimination. This movie would be shot mockumentary style with all improvisation by the actors. So, my audition was an on-camera mock interview.
I feel especially honored that I got the part because they held auditions in Los Angeles first. Okay, that means something to me. Now, here's the tricky part. The film was shot in a town called Greenville. I looked it up at Yahoo, or rather, I didn't. There is no Greenville according to Yahoo Maps. I tried MapQuest and found it -- way up north in the Sierras. Now I feel reassured this is not a ploy to lure unsuspecting actors away from home for the white slave trade. But I haven't seen snow in many, many years and have to admit the prospect scared me. I had no winter clothes, no boots, and was just not psychologically prepared for winter. Would they drive off an icy embankment when transporting me from the Reno airport to the snow peaked mountains of Greenville? Who would take care of my dog while I'm away? Oh, the terrors of being an actor on location.
I called director Nick Tucker and suggest my character have a small, fluffy dog. And he agreed! What a guy. All expenses were paid, I was asked my food preferences, he found a rustic motel that accepted dogs, and I didn't have to memorize lines. Looked promising.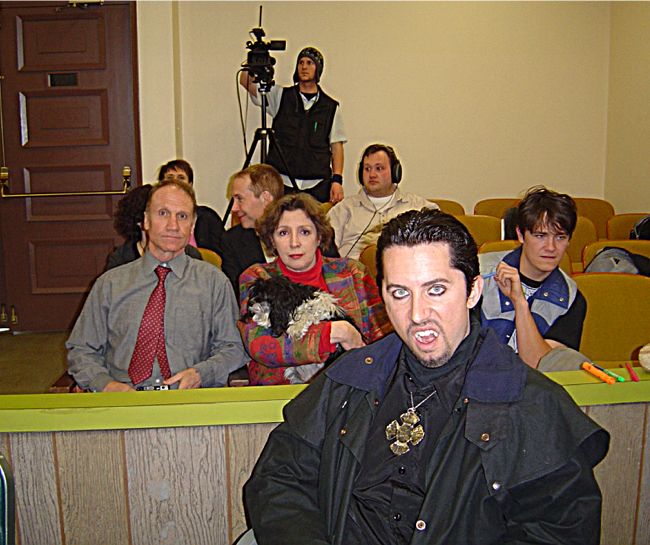 In the Courtroom: son Carl (Mark Hefti) in front.
From left to right: Husband James (Earl Thompson),
Barbara (me), son Billy (Luke Pennington).
Next row: Cassie (Amanda Troop) unfortunately lost behind
James' head, Toby (Kevin Fabian), sound operator Jeff MacDonnell.
And up against the wall videographer Lucas Abel.