Downsizing is a comedy skit about the growing population of homeless and a marketing solution: sell the homeless well constructed, reinforced, attractive card board boxes with all the amenities of home.
The skit in its entirety was longer, encompassing the suburbs as well as the urban scene I was in.
Oliver Azcarate is the announcer espousing the benefits of the affordable cardboard house. Mike Reed as the homeless man gives a testimonial to the positive changes in his life due to the cardboard house. And I am the skanky, yes skanky, homeless whore who benefits from the cardboard house even though I didn't buy it.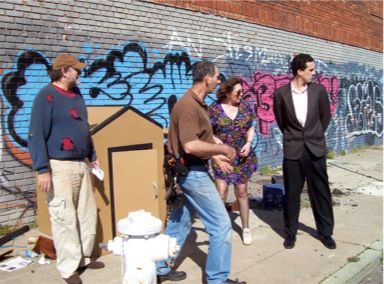 Here, director/writer Ken Martini, of Ecstatic Films,
in blue jeans, sets up a shot.